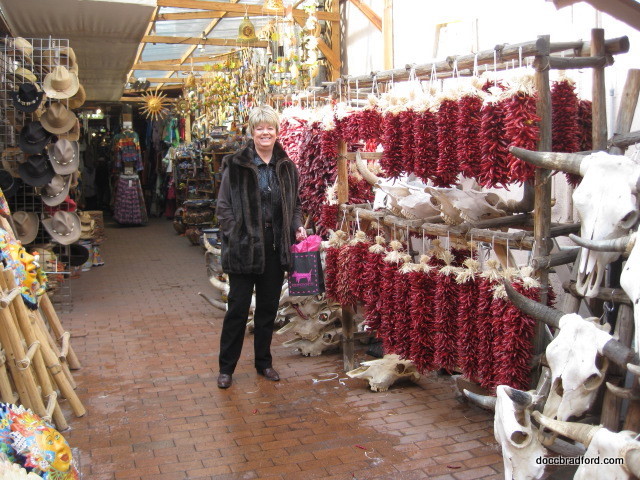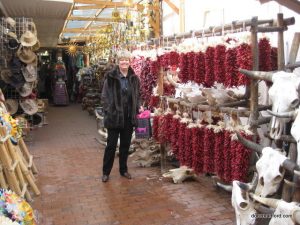 I just returned from three days in Santa Fe, and although I have been many times, I always enjoy seeing the sights, especially during the Christmas holidays. I love the arts and architecture that this capital city provides and when it is decorated for the season, there is no place quite like it. The historic plaza was awash with twinkling lights both nights that I ventured out in the cold temperature to enjoy the farolitos, or luminaries, the term being used interchangeably depending on where one is from in New Mexico.
Farolitos, the Spanish word for "little lanterns," is used primarily by Santa Feans, but whatever you call them, these small bags filled with sand and candles, add to the magic of this high-desert town, situated at the foothills of the Sangre de Cristo Mountains. They are everywhere; on roof tops, lining walkways, alongside hotel walls. Under a canopy of stars, this combination of natural and artificial radiances creates a festival of sparkling, glittering lights.
Of course, the spicy Northern New Mexican food, best identified by the green chiles that make it famous, is not to be missed. And this time I tried Maria's, because it has won the best margarita award for the past 14 years. And there is a reason for that—they serve more than 100 tequilas and 160 different margaritas with names like "That Awesome Fella" and "The Silver Sammy," not to mention "I Was the Boss" for $17.25 and "The Best of Show" for $42.00. Now, that's a lot of headaches!!! And they use no mix, sugar or additives; only real tequila, real triple-sec and real fresh squeezed lemon juice and ice made from filtered water. I now know where they get the saying, "One Tequila, Two Tequilas, Three Tequilas, Floor," but I was a good girl because I know José Cuervo is not a friend of mine!
The second night I had to have a steak at The Bull Ring, which has become a tradition for me on every visit to Santa Fe. I realize in a city so rich in food heritage, it is probably crazy to eat plain ole tenderloin, but this place has some of the best ever. Admittedly there are so many great places to eat, it is difficult to choose, so I stop a lot during my shopping for little snacks.
Speaking of shopping, I never miss going to the Palace of the Governors where each day local Indians line up to sell beautiful handmade jewelry and other items. Since they are allotted spots through a lottery system, no two days are the same which always makes it interesting.
It is the confluence of Spanish and Native American cultures that lends to the mysticism of Santa Fe, and I never tire of visiting. Of course, the kiva fireplaces, art galleries, adobe structures and stark beauty of the oldest capital in the United States also keep me returning again and again.