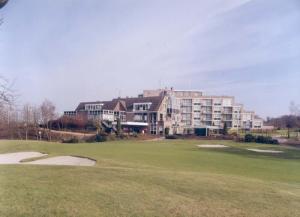 It has been snowing here in The Netherlands since Tuesday. It appears that the white stuff is determined to follow me this winter, dusting my path and making my shoulders look like I have a bad case of dandruff. I'm beginning to wish it were dandruff.
Monday, there were golfers on the golf course at my hotel. Not that it was warm; it wasn't, but at least at that point there was no snow. Apparently, Dutch golfers are a hearty bunch because none that I saw even wore coats. Me, I'm a fair weather golfer so playing in 25 degree weather makes little sense. It's on par with playing tennis in South Texas in the middle of July. There are just better activities to choose from when Mother Nature rears her ugly head—like reading a good book in front of a crackling fire with a cup of hot chocolate or in the opposite case enjoying the coolness of air-conditioning when the sun bares down unmercifully.
But I must admit, my hotel is a golfer's heaven on earth. What a treat to be here in late spring or early summer. It must be gorgeous because even now in the dead of winter, the grounds are a lush green—that is when they are not covered in this white stuff.  I can only imagine the beauty of these rolling hills, lined with hundreds of conifers and young pine trees, once the colors of spring are revealed and the tulips begin to pop up all over.
The Golf Hotel (what a clever name, don't you think?) is about all things golf. The huge patio off the living room area of my hotel room looks out over the sprawling expanse of one of the several courses carved out of the 272 acres. There is a 27-hole championship course, which I wouldn't even attempt, but also a 9-hole course and 9-hole par three course that wait the less skilled such as yours truly. But even more than golf, this would be a wonderful place to sit outside in the spring with a glass of German wine, trocken of course, and take in the scenery of the southern Dutch countryside. But right now I'll have to settle for the amenities offered in this little part of Europe. Did I mention the schnitzel? Yummy.