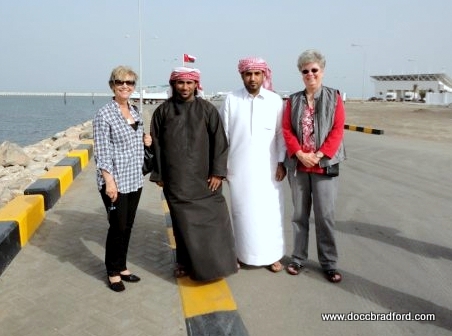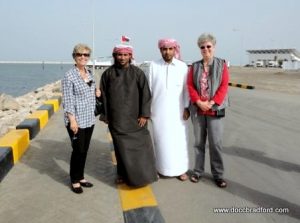 I promise this will be my last blog about my recent trip to the Middle East, but going to the country of Oman was one of the highlights so I would be amiss if I didn't detail it.  Oman is an independent monarchy, ruled by a Sultan, whose picture is posted almost everywhere one looks. As recently as five years ago, Oman had an open border; that has all since changed.
Although it is not really difficult to visit the country, it is a bit time consuming to get a visa to enter and another one to leave. And the officials do ask a lot of questions and give stern looks. I read that the country is trying to encourage tourism. I thought about giving some public relations advice, and then I thought again!
The school eased any concerns by taking care of everything along with a driver, escorts and a tour guide. Along the dusty highway from the UAE to the port city of Sohar, once the ancient capital, camels grazed on what looked like barren desert to me. We stopped for cold drinks at a small village and then drove about 70 miles through more desert and mountains until we came to Sohar, which is not only a fishing village, but also a thriving industrial center now. After walking through the worn and tumbling castle, well known to this area, we stopped for lunch of fresh fish from the Gulf of Oman where we later took a boat out into its crystal blue waters.
By this time people were gathering at the shore and in the parks because prayers were over. We were there on Friday, which is the Muslim holy day in this area—it varies in different countries.  I saw very few women this entire day, and when I asked where they were, I received the simple answer of "at home." Like 'at home where they should be!!!"
A trip to the traditional souk or market was fun—the sights and smells memorable. After a long and interesting day, we headed back to our hotel in Al Ain. I was glad it was the Hilton with a westernized feel and hot water for a nice bubble bath. But first, the very sought after and expensive glass of wine!! (Alcoholic drinks are only served at hotels—no other establishments) My mouth was feeling as dry and dusty as my body!