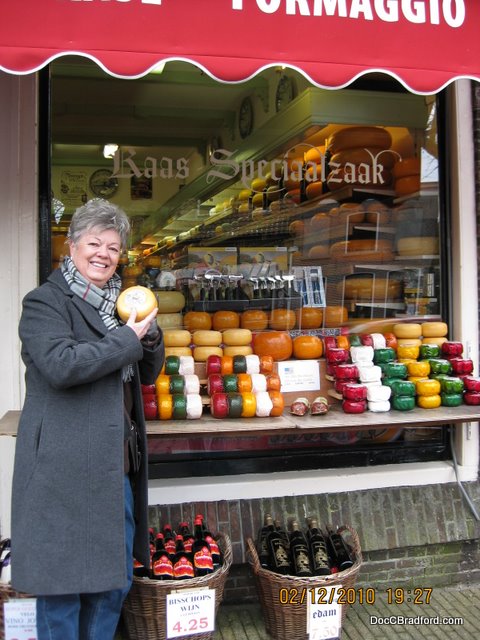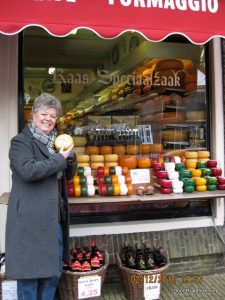 In the school business we are all about inclusion, acceptance and diversity. So is Amsterdam!! It gets an "A" for this, albeit a "Scarlet Letter A." What a strange and intriguing place, and quite pretty in an old way with its many canals and beautiful architecture. Although I had been here briefly before, it was with a tour group, so that visit was structured, which is not all bad, but it limits spontaneity.
This time, I took off walking for hours, which I love to do in a foreign city because I am free to take my time, stopping to look in little shops or just walk aimlessly. And as is often the case, when I have seen everything by foot, I bought a city tour pass and did the touristy bus thing.
As everyone basically knows, Amsterdam is a place where anything goes, and the Red Light District is the epitome of this. Although it is certainly interesting, I find it to be rather sad and depressing. I couldn't help but wonder what must go through these young women's minds; what thoughts they may have in regard to their lives. The taxi driver to the airport said that some can make enough money in seven years to retire, provided they don't get hooked on drugs. But what a long seven years that would be sitting daily in a four by four cubicle, or less, with a window to a sordid world, waiting for some creepy guy to pay for sex.
The streets of the district are filled with "sex shops" and similarly related establishments, and lined with tiny, narrow rooms where the women sit emotionless behind closed windows.  Each appears to decorate her cubicle with a fancy chair and something to make it have its own attraction or personality of sorts, although sadly they are obviously the main feature. Some stand waiting; all are obviously "dressed down" for the occasion. When they are "busy with a client" they draw the curtain to their window. At least there is some discretion. Surprisingly, the area is extremely safe and obviously a major tourist attraction.
The coffee houses are the other big feature where smoking cannabis is the favorite past time. Actually, smoking regular cigarettes on the streets is against the law, but smoking marijuana is not. Go figure. But this is just one side of Amsterdam. It is a sight to see, but not linger in, because there is so much more to this great Holland city.
The canals are a highlight and cleaner than Venice, although the boats lack the certain charm that the gondolas provide. But the boats are another great way to get around the city. Of course, there is so much history here in the old Jewish quarters and the Anne Frank house, not to mention the Royal Palace, the floating flower gardens, the Rijksmusuem and all things Rembrandt and Van Gogh.
But outside the city is also special, and this time I had the opportunity to see more of the countryside which included a trip to "De Zaanse schans," a picturesque windmill village with the traditional green timbered houses that are fast becoming a thing of the past. A visit to Edam and a cheese factory and clog maker, along with several hours in the fishing village of Volendam, rounded out a great tour.
Riding back to the city via Monnickendam, on the shore of the former "Zuiderzee," I had the chance to visit with a woman from South Africa, living in Dubai, who insisted she take me shopping when I am there in two weeks, and a young Indian doctor who is finishing his residency in London.
Meeting folks from all over the world is the icing on the cake. The night before, I had met three young struggling artists from England who now call Amsterdam home. One wanted to introduce me to his friend who owns a local Indian restaurant near my hotel, and since I had never eaten true Indian food, I followed him, a guy half my age, to a wonderfully quaint underground eatery. Chaz (sounds artsy, doesn't it?) suggested what dish I might like to try and told the owner to "take good care of me" before he was off to meet friends more his age. Then it wasn't long until I was engaged in conversation with eight United Airlines flight attendants who were more than a little tired from a prolonged wait at Dulles because of the heavy snow. We toasted to good weather and good flights before I called it a night, overdosed in ginger, garlic and curry. My verdict is still out on Indian food.
After the last tour and another long, but extremely pleasant day I trudged back to the hotel to pack all the extra accumulations that seemed like such a good idea at the time I was buying.  Now, where in the world was I going to stuff three pounds of Dutch cheese, four boxes of chocolates, and a couple of extra souvenirs? Time to pull out the trusty duffle! Then, one more cold walk around Dam Square at night, and I was ready to call it quits. Will I return?  Maybe, but doubtful. I try to see what I can when I visit a place, knowing that I may not pass that way again. I had one more trip there than I thought I might. Now, it's on to somewhere new and different. There are too many other venues to see… and miles to walk.