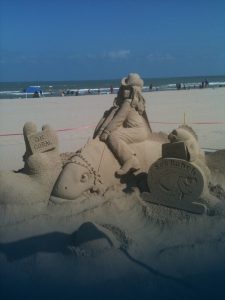 Sandcastle Days this past weekend was, I think, the best ever with the most "castles" I have seen.
It is amazing how intricate and beautiful these sand features are. Sculptors come from around the world to build the castles, and they didn't disappoint. They are true professionals and it shows.
Their creations brought visitors from all over, and many were fashioning their own sand designs in the amateur section. Others were milling around, eating fried shrimp and funnel cakes from various vendors.
This is a great time of year on the island with temps in the mid-80s. It was a fun weekend to ride around in the Jeep, with the top off—of the Jeep, silly!! I don't want to scare the crowds!