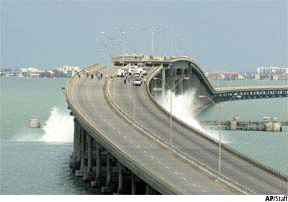 Today marks the ninth anniversary of the collapse of the Queen Isabella Memorial Causeway, the bridge to South Padre Island from the mainland. I remember it well for a number of reasons, but primarily because it came so soon after 9/11 that at first we all thought terrorists might have started taking out bridges.
Since it happened at two o'clock at night, all we knew was the bridge had caved in. It wasn't until mid-morning when we finally understood that four barges had run amuck and hit the bridge's pilings dead center, knocking out a 240 feet section.
Five people lost their lives as their cars plunged into the water from the two-mile long causeway, the longest bridge in Texas. Since most of those worked in the service industry, they were known by many locals. It was, indeed, a sad time, and just this weekend we talked about those who are still missed.
Since the causeway is the only means of getting to and from the island, those of us living here, along with a number of visitors were virtually "stuck" for a number of days until the Texas Department of Transportation and local officials worked out a ferry system.
Most of the fishermen with large boats and dolphin watch boat owners pitched in to help us get across the Laguna Madre as soon as a docking area was arranged. Yet it was several weeks before anyone could get a car across and once I did, I realized that I didn't want to get it back until the ferrying was all over.
I remember I waited in line for more than eight hours to put my car on the automobile ferry; I even missed teaching my class at the university.( I don't remember my students being upset, however.) So, for three months I left a car in Port Isabel at the ferry landing, took my little open air jeep to the South Padre ferry landing and rode a boat across. Needless to say, I had "ferry hair" for the entire three-plus months that the bridge was being repaired.
But with every dark cloud, there is a silver lining, and so it was with this. The thirty minute or so boat ride twice a day (depending on the route) was actually quite pleasant and I made lots of new friends. People are just friendlier on the water it seems. Plus, misery does love company, and as daily travelers we quickly bonded as seafaring friends with windblown hair. I certainly would never want to do it again, but the goodness of people shone through as we made it beyond a difficult time together.