There are only 5 days until Christmas. The pressure is building to get those last few gifts. The stores are crowded and priority shipping makes shopping online more expensive. All is not lost. Here's a great last minute gift idea.
Did you know that the Kindle version of Coyote Smart, Promises Kept or Keeping Faith can be given as a gift to anyone with an e-mail address? And even better, you do not need a Kindle to send or receive Kindle book gifts, and the recipient can read their gift on a registered Kindle device or any free Kindle reading application (like a Windows computer, a Mac, an iPad, an iPhone, a Blackberry or an Android).
To gift the Kindle books:
1. Browse to the Kindle page for Coyote Smart, Promises Kept or Keeping Faith.
2. Click the "Give as a Gift" button located under the Buy button on Kindle Store product detail pages (see picture to the right).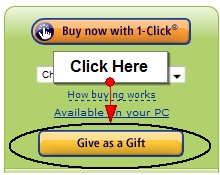 3. Enter the e-mail address for your gift recipient.
4. Enter an optional gift message.  If you'd like to preview the notification your recipient will receive, click the Preview E-mail button.
5. Click the Place your order button to finish your gift purchase using your Kindle 1-click payment method.
That's it!  Your gift recipient will be notified of their gift at the e-mail address you provide. And imagine how excited they will be to receive such a unique gift.
Merry Christmas!